Believe in Yourself by Helen Chilton
11:00
This is the set I've used: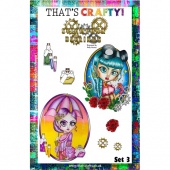 The girl is stamped onto glossy card and coloured in with
pens
.
I painted them a mix of colours...
...and then stamped over them to add more interest.
Having done all that I decided to add some yellowy/orange cogs to tie the coloured background in.
Add your
quote
and you're done!
That's the second week in a row that I've used a background that was already done - it's much easier than starting from scratch and as I tend to keep odd bits of stencilled/painted/stamped card and paper, I usually have plenty to choose from!


Have a good weekend!
Helen