You Toucan Do by Helen Chilton
11:00
...what a toucan can do! Love this bird - he's got a great expression!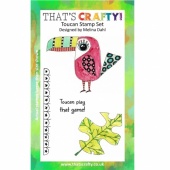 I've stamped my leaves using the
Stazon Pigment Black
- haven't used this before but it was great as it stamps well and dries quickly on glossy surfaces.
The toucan was stamped onto glossy card and painted with the same ink sprays - I just sprayed some on a mat and used a brush. The flowers came from one of the sets that was on Hochanda last week.
To get the border to go round the edge I curved the stamp on the block and inked up just 5 of the scallops at a time.
I always love working on these rounds - don't know why but things just seem to fit well. This toucan has been added to
the bunny
and
the bird
in my quirky collection! They really are fun to play around with.
Helen