Castles in the Air by Helen Chilton
11:00
I love these quirky castles by Katzelkraft - they look as if they've come from a fairy tale.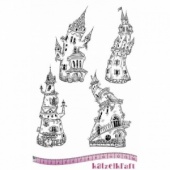 I'm using a 6x6 panel here and a plastic card to scrape on the paint.
Add some Infusions while still wet...
...and scrape through.
Next came the stencilling - choose a fairly open one...
...and then you get the full effect of the crackles. Some of the Infusion colour will come through.
I've added extra colour with Distress Crayons:
And then wiped them back:
I've deliberately stamped in a dye based ink...
...so that I could pull out some of the outline colour to create shadows:
Add touches of colour as well:
Supplies:
Katzelkraft Unmounted Rubber Stamp Set - Les Chateaux - KTZ172
That's Crafty! Surfaces White/Greyboard Panels - 6x6 - Rounded Corners
Tim Holtz Distress Crayons